Post by Dennis on Jul 26, 2018 16:28:51 GMT -5
Back in 2009 I bought a mint vintage AMT 1928 Sedan kit on eBay for $65.00.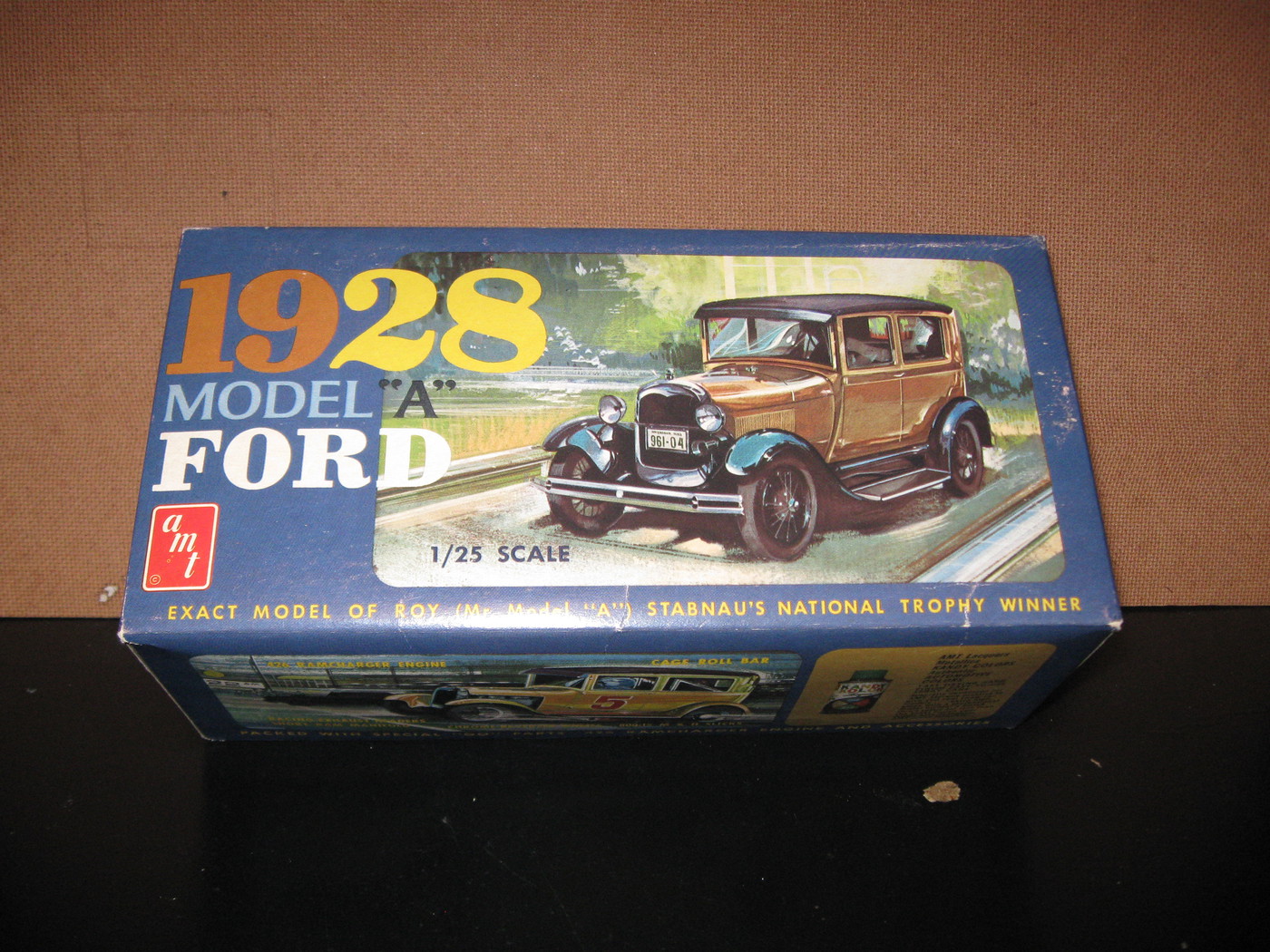 Then in 2013 I took that mint, perfect kit and chopped the top 4 scale inches and headed down the path of building it into a 60's Altered with the blown Oldsmobile from the Ed Roth Beatnik Bandit.
Doing anything custom with this kit is a challenge because the frame, floor and fenders are molded as one big piece. I cut out part of the front floor and fit an Ala Kart center cross member and trans, scabbed on the rear cross member from the AMT '25 T's along with the entire Quick Change axle & suspension from the same. Up front was the tube axle from AMT's old 70's '34 3-Window failure with AMT '41 Woody hairpins and some kind of tie rod. Wheels were AMT '33 Willys with parts pack slicks out back and Modelhaus tires up front.
Then I got distracted and eventually became disenchanted with the whole set up. The chassis just wasn't "doing it" for me and coming up with workable headers for the Olds was proving to be a big frustration so the whole thing got boxed and forgotten. The remainder of the kits original parts were sold off as a lot to a TRAK member to help restore a glue bomb.
Just the other night I was looking through my Fotki albums at derelict projects, this one included. I got to thinking how lame it was to let this thing go to shit, especially with what it cost me! As I looked through the pictures inspiration hit and ideas started flowing.
I'm home all week on Summer Vacation so yesterday I dug it out, tore apart everything I had done before and cut out the remainder of the center floor back to the rear cross member. Way out back behind the rear cross member I had to patch-in a piece of floor (using the cut out center floor) that was cut out to fit the old scabbed-on '25 T cross member. I then set about gathering up a whole new batch of parts!
I adapted the entire rear axle, suspension and long ladder bars from Revell's KS Pittman '41 Willys. I also adapted some brake plates to the axle and will be adding brake drums later. In front will be the dropped tube axle and hairpins from Revell's '32 5-Window. Wheels and tires are all from Revell's Miss Deal Studebaker funny car. (American's for ED!!!) Engine is the 327/4 speed and valve covers from Revell's '62 Corvette and will use the Chevy parts pack Moon front cover, modified and detailed Double Dragster Hilborn fuel injector and some long dump headers. The engine is set back under the cowl as far as reasonable. The trans mount cross member is cut down from the newer Revell Model A kits and mounted on some drop-down brackets to get a good driveline angle. I will fabricate some solid front engine mounting plates and a Moon tank will fill the space in front of the engine.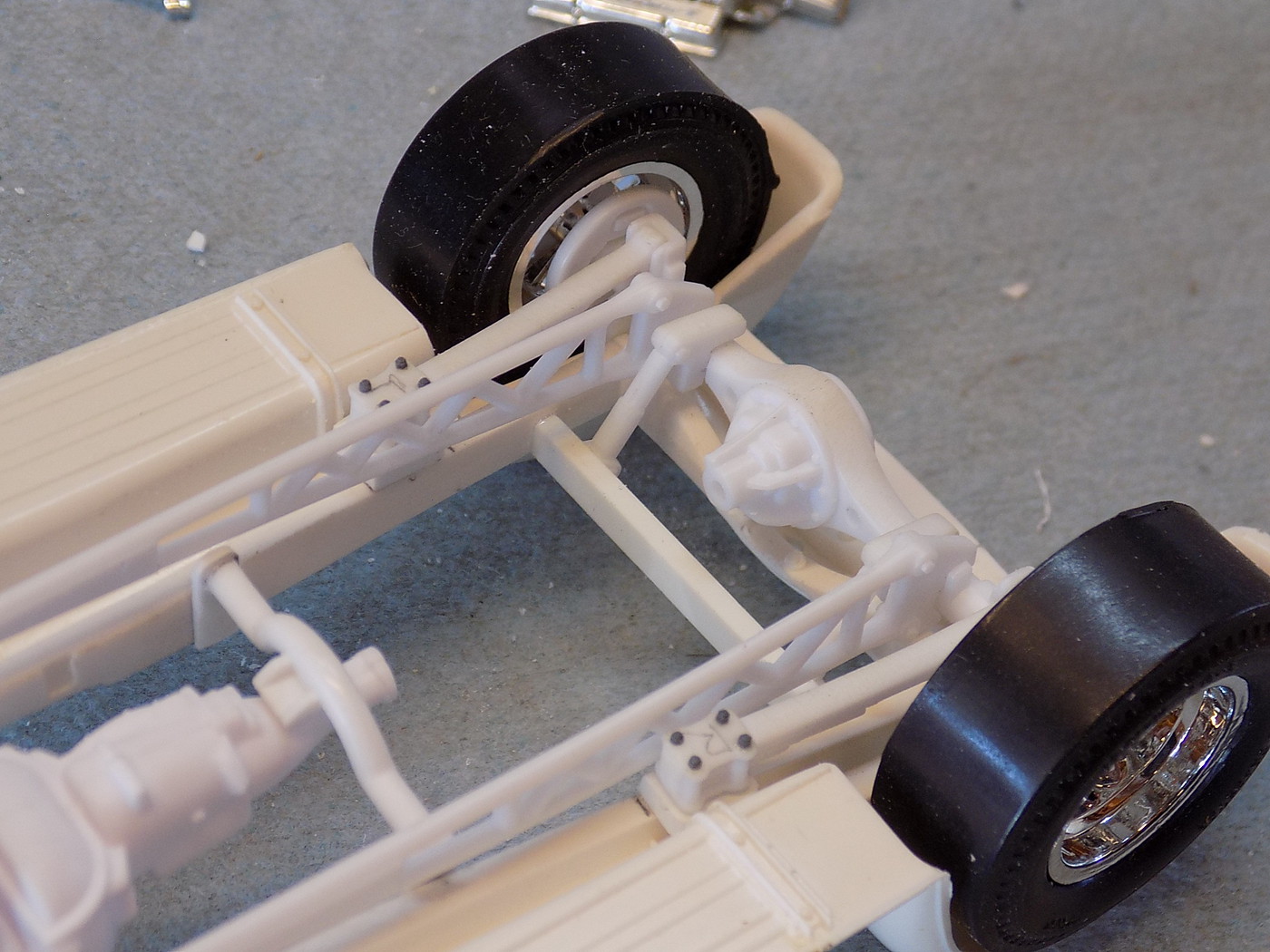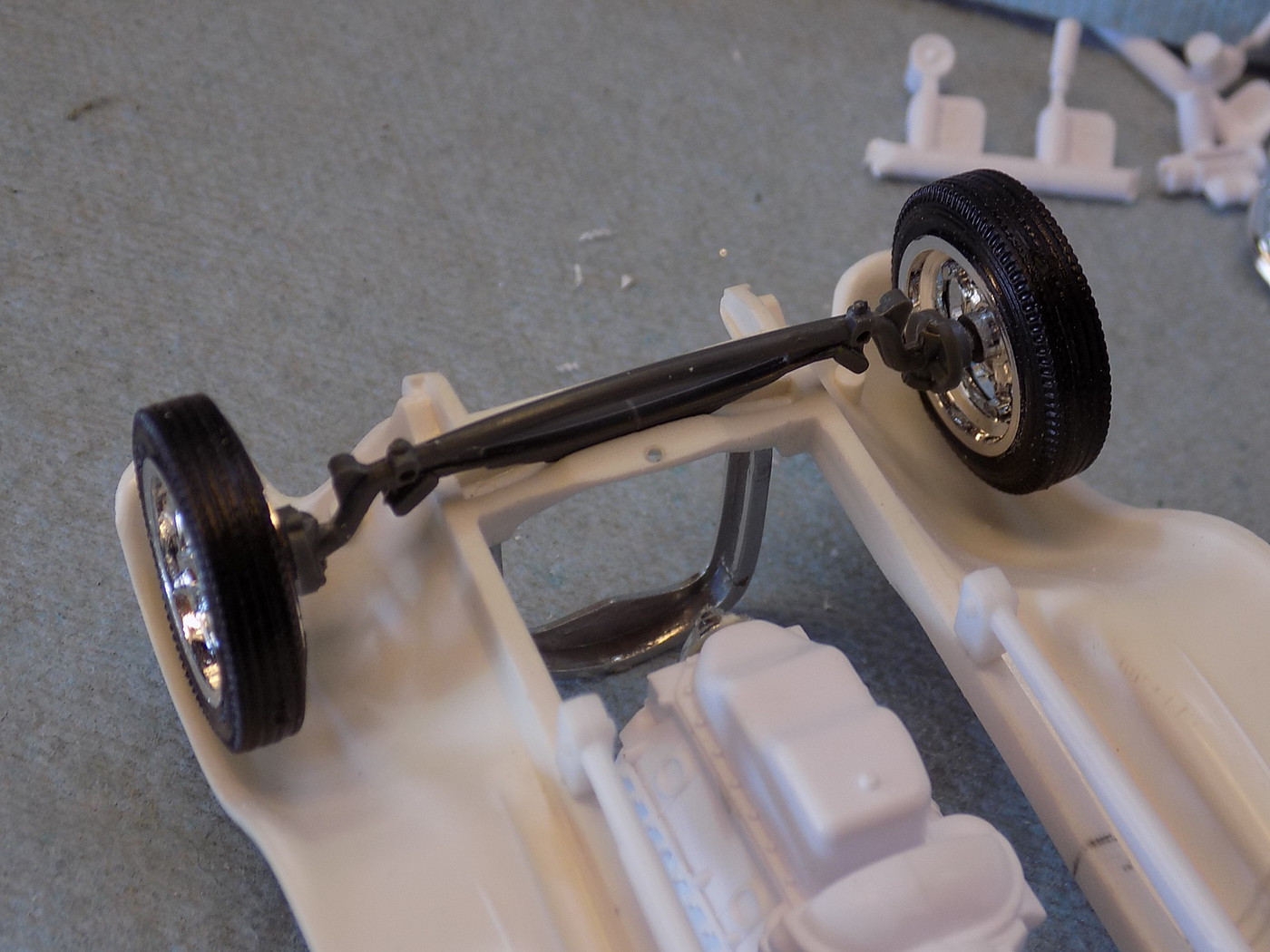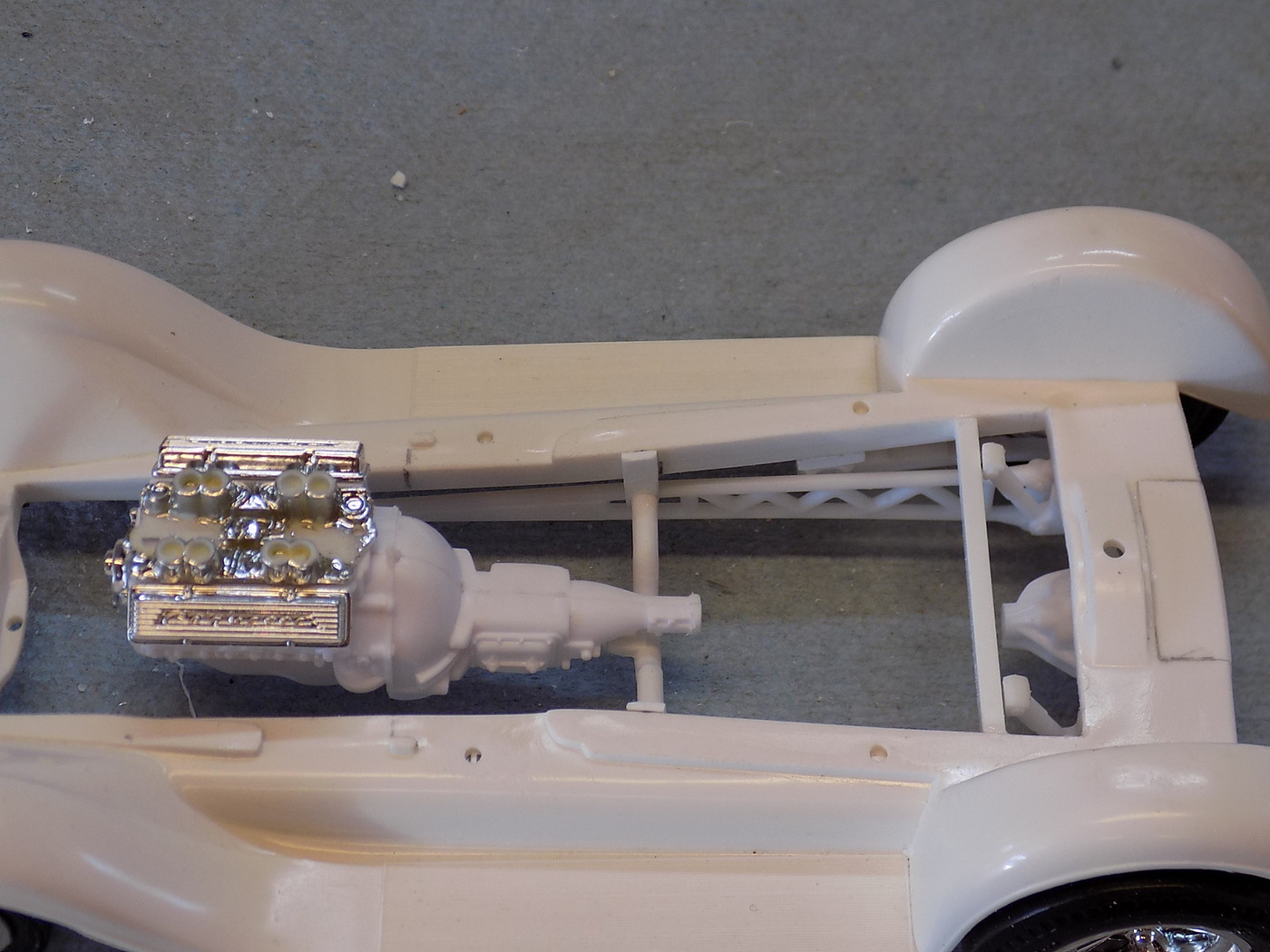 Up on its wheels!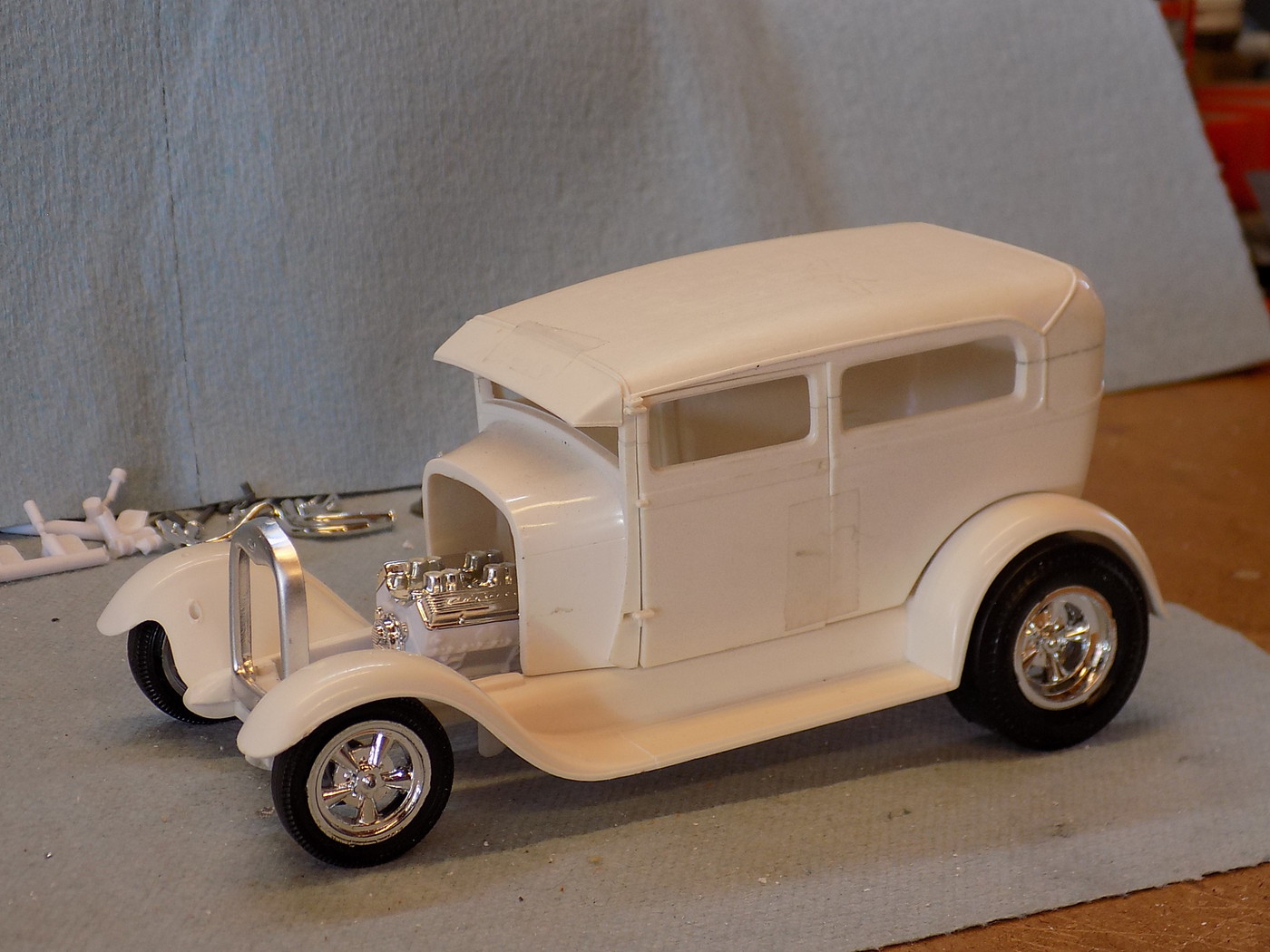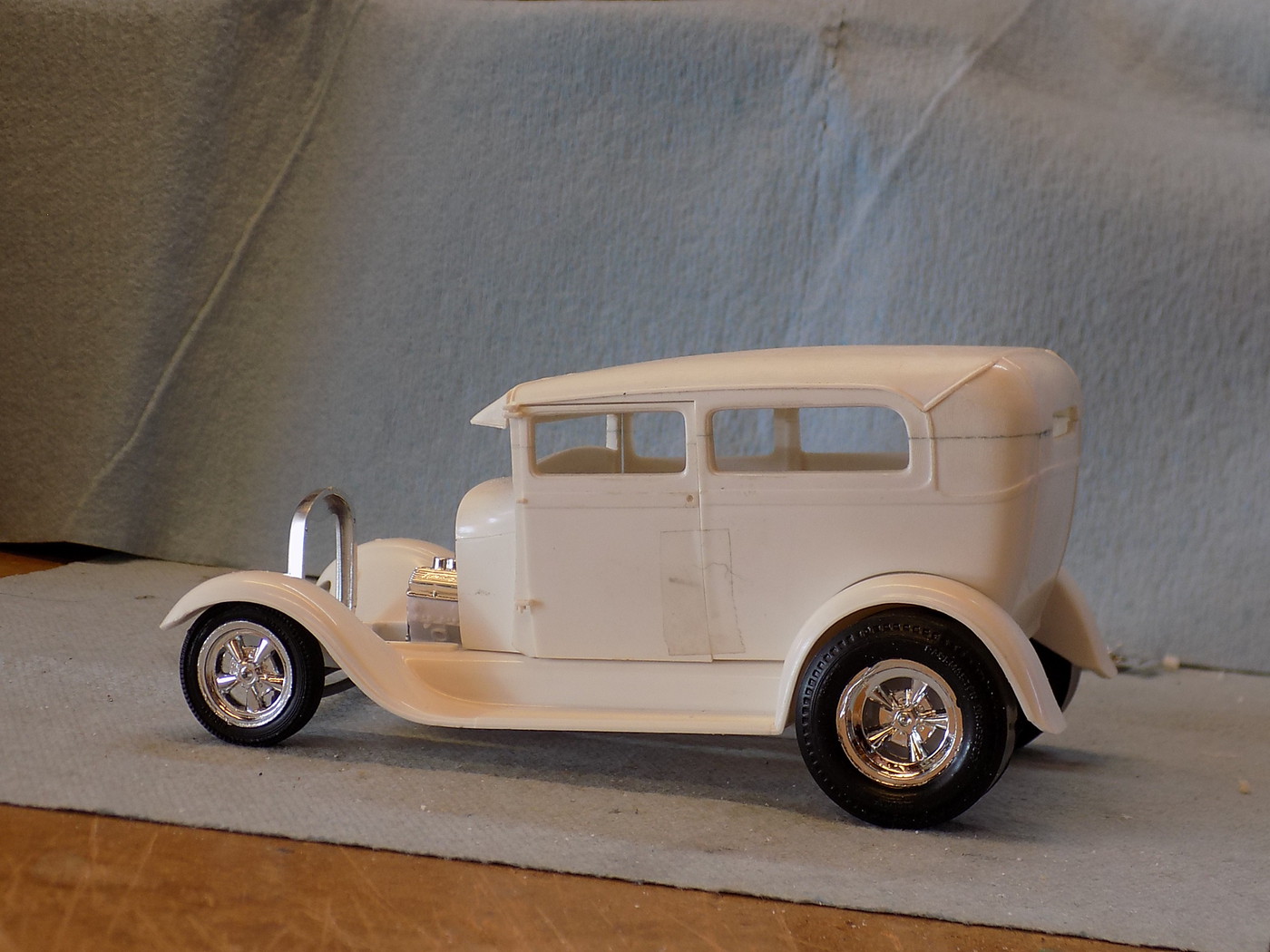 Thoughts? Comments?